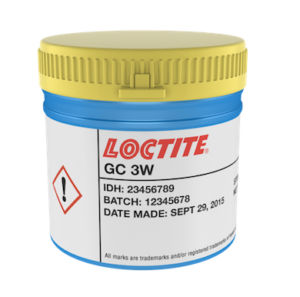 Ellsworth Adhesives Europe has today announced that it is taking orders for GC 3W, the new temperature stable water wash solder paste from Henkel Loctite's Game Changer Series.
The Game Changer Series from Henkel was launched just a year ago, when Loctite GC 10 entered the market and became the first material of its kind to boost temperature stability. Following on from the success of Loctite GC 10, Henkel has expanded its temperature stable product range, with the introduction of GC 3W.
Loctite GC 3W cleverly combines temperature stability with the properties of high-activity flux performance – something that has not been possible until now. The Loctite GC 3W formulation is completely halide and halogen free, offering users exceptional results in aqueous cleaning systems without the requirement for added sapoinfirers or co-solvents.
This new product is aptly described as a 'Game Changer' thanks to the benefits it has over standard water wash pastes currently in the industry including improvements in printing and stability, reflow, cleanability and paste management. Stencil life and abandon times are also superior to previous generation water wash formulas while storage stability is extended to provide game-changing, water-washable performance.
Using Loctite GC 3W, post re-flow residue removal is quick and hassle free, and manufacturers will be delighted to learn that the window for cleaning has dramatically expanded, giving users the flexibility to clean boards up to 7 days after assembly.
Loctite GC 3W is available in Type 2 and 3 powder sizes and SAC305 alloy. To enquire about ordering this product, please email infoeurope@ellsworth.com
Loctite GC 3W is just one of many Henkel Loctite products available from Ellsworth Adhesives, to view the full range, simply visit: https://ellsworthadhesives.ie/brands/henkel-loctite/