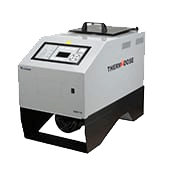 Fisnar, a leading manufacturer of dispensing equipment, has just launched a new line of THERMADOSE® hot melt production equipment that will be available immediately from Ellsworth Adhesives Europe. Machine improvements to the new system provide the ultimate in pulse-free, temperature controlled, thermoplastic dispensing for industrial applications using pressure-sensitive adhesives, contact adhesives, waxes and sealants.
THERMADOSE® Reservoir tanks are coated with inert PTFE heated by quick-change cartridges for easy maintenance and the Tank controllers include independent over-temperature and over-pressure protection for safe operation. Independently controlled heat zones minimize adhesive degradation for precise, uniform patterns.
Operation of the new equipment is simple – control settings are input using an easy-to-use touch-pad providing simple and rapid setup while LED indicators monitor operation status and functions. Machines can be configured for use in manual and automated applications using either a hand-valve or automated-valve applicator.
Pail and Drum Melters in the THERMADOSE machine handle high volume production requirements of hot melt EVA, PSA, and PUR, supplied from 5 gal (20 L) pails or 55 gal (200 L) drums. Melters include precision gear-pump technology providing pulse-free flow of adhesive for precise gluing applications.
To see the new Thermadose equipment in action visit: http://youtu.be/6kb40Hk19-s. Enquiries can then be submitted to infoeurope@ellsworth.com.
Hot melt systems such as the new Thermadose system from Fisnar are suitable for direct-contact, non-woven, ribbon-coating, high-speed jetting and product assembly operations. Ellsworth Adhesives Europe has a wider range of dispensing equipment which can be viewed here.