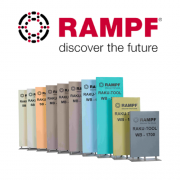 Ellsworth Adhesives Europe is delighted to report on a highly successful third year of its distribution partnership with RAMPF Composites and Tooling Solutions.
The partnership began under the John Burn Ltd branding; however, the brand and its product range were absorbed by their parent company Ellsworth Adhesives Ltd in 2018. The RAMPF portfolio is now available to buy under their brand Ellsworth Tooling Solutions and has shown impressive sales growth year upon year.
John Henderson, Managing Director of Ellsworth Adhesives Europe, comments: "We are thrilled with the progress we have made to expand the market share of RAMPF products over the last three years. Their high-quality product range combined with the comprehensive expertise of the Ellsworth Tooling Solutions team has proven to be an unbeatable partnership."
As the official UK distributor, Ellsworth Adhesives supplies RAMPF RAKU-TOOL modeling and mould engineering materials such as styling, modeling and working boards, as well as a large selection of liquid materials and pastes. Their tooling portfolio aims to provide cost-effective and innovative solutions for the composites industry and has become a firm favourite in the sector.
One particular product range with notable sales is the RAKU-TOOL fast cast resins. These two component polyurethane systems can be used filled or unfilled and exhibit rapid cure and short demold times, as well as good heat resistance and high strength properties.
RAMPF tooling products can be purchased directly from Ellsworth Adhesives Ireland. For more information, please contact us today.