Ellsworth Adhesives Europe has offered a custom repackaging service since our establishment in 2005, through Ellsworth subsidiary company KitPackers. The re-packaging capabilities of the KitPackers division forms an integral part of our business and we now feel that it is time to promote these services as a separate entity, through the introduction of the new website www.kitpackerseurope.com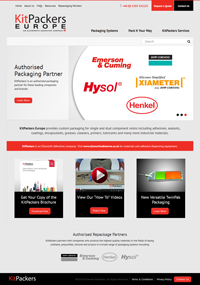 The creation of the new website will expose Kitpackers to a broader audience and presents Kitpackers with an exclusive platform to showcase the full range of its capabilities. The scope of Kitpackers capabilities is certainly wide, with its extensive selection of packaging systems; from dual and single component cartridges, to bi-pac foil sachets and syringes.
Kitpackers not only supplies the widest variety of packaging options, it also provides a number of expert services that will extend the shelf life of products and cut down on unnecessary waste – services include the supply of pre-mixed and frozen resins and vacuum and centrifugal degassing.
The new website details the full range of Kitpackers products and services and is now live. Visit www.kitpackerseurope.com