The preparation of industrial materials almost always begins with thorough mixing, whether this be for applications requiring adhesives, silicones, polyurethanes, epoxies, hot melts or UV adhesive materials. It is therefore crucial that mixing equipment is chosen wisely to ensure efficient processing and an overall high quality output.
We've highlighted the most effective industrial mixing equipment on the market to suit different budgets, with the hope of helping you make an informed choice.
Low Budget
The Techkit is a compact and simple method of packaging two or three component resin systems in a cartridge format.
Available in sizes ranging from 74ml to 1/10 gallon, the tech kit is beneficial since it mechanically separates the base and hardener until they are ready to be used. An internal fixing head provides a thorough blend for all types of compounds and can be disposed of entirely when the job is complete – no clean up or physical contact with the resin is required. For the most efficient results, we recommend using a tech kit with a cartridge dispensing gun.
There are three main types of TechKits available, to cater for a wide variety of applications. Firstly, the barrier type kit which is suitable for compounds with a volumetric ratio greater than 10 parts per 100, the catalyst and base are separated by an aluminium barrier formed over the mixing head. The injection type kit is most appropriate for compounds with a volumetric ratio of 10 parts or less per 100 where the catalyst is contained inside the valve mixing rod while the base is in the cartridge. Finally, the barrier/injection type kit can be used with three component compounds where components of both injection and barrier are to be combined.
Side-by-side cartridges perform the same function as a Meter / Mix / Dispense (MMD) system in a miniature, manually operated format. By opting for a cartridge over MMD equipment, a considerable cost saving can be made. Cartridges are available in a variety of sizes from 50ml through to 1500ml.
Sulzer Mixpac systems for two component adhesives are also advantageous, these side-by-side cartridge systems offer the total separation of the two components and a high level of storage stability while simultaneously preventing cross-contamination.
The range of Sulzer Mixpac systems include the B-system, a 2-K cartridge with 50ml capacity and the F-system, a 2-K cartridge with 200ml or 400ml capacity. These cartridges are available with different mixing ratios and for a wide range of mixers. The cartridges are available in PP, PBT and PA6 materials to ensure precise dosing, high process reliability, safe and clean handling and no cross-mixing.
Medium to High Budget
Where a reasonable budget is available for the mixing application, users should consider purchasing a metering and mixing machine or centrifugal planetary mixer.
Metering and Mixing systems are incredibly beneficial as they allow single and two component materials to be processed easily and efficiently. These machines can be integrated and mounted onto robots or used within manual application processes depending on the application demands to ensure controlled flow characteristics during dispensing.
Centrifugal Planetary mixers can degas an extensive range of single component materials or simultaneously mix and degas multi component materials, regardless of their viscosity. With several advantages over traditional mixing tools and equipment – including the ability for users to complete the mixing and degassing process in minutes – Centrifugal Planetary Mixers ensure a quicker overall process time whilst achieving a smooth end result with minimal wastage.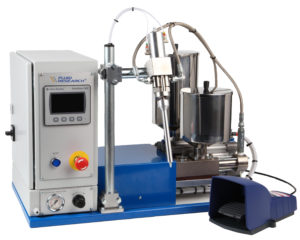 Fluid Research LC50FR and LC120FR fixed ratio metering, mixing and dispensing machines are digitally controlled utilising PLC, HMI touch screen technology enabling a wide range of electrical accessories and easy robot interface.
Integrated with the latest parallel drive system, the LC50FR and LC120FR ensure the consistent processing of materials with either high mix ratio and/or differing viscosities. Manufactured with Fluid Research's 'Posiload' positive displacement metering pump technology, repeatable, accurate volumetric metering, mixing and dispensing of low to medium viscosity or thixotropic two-part resin systems can be assured. Epoxies, polyurethanes, silicones, adhesives or potting compounds are approved for use with the LC50FR and LC120FR.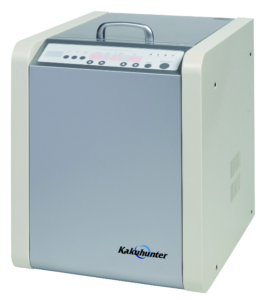 Exclusive to Ellsworth Adhesives Europe, the SK-300S2 and SK-350T2 machines from Kakuhunter provide users with a convenient and highly effective mixing solution for mixing two component materials.
The SK-300S2 is an entry level bench top unit designed to simultaneously mix and degas materials quickly and efficiently. This versatile piece of equipment is very impressive and can process a vast range of materials, from low viscosity to high viscosity, whilst delivering uniform dispersion. The more sophisticated model, SK-350T2 is designed for larger scale production and has capacity for two cups, allowing to run a dual mixing cycle.
Concluding Thoughts
Over recent years the demand for dynamic metering and mixing equipment has grown dramatically – many users now require precision mixing equipment which can be used in a variety of outputs and industries; such as the automotive, electronics, medical and aerospace.
At Ellsworth Adhesives, we cater to all applications, whether it be for those who desire to achieve a simplistic result to the most refined – our extensive range of mixing equipment can assist in your application.
To make an enquiry about any of our Mixing Equipment, contact Ellsworth Adhesives Europe via email: infoeurope@ellsworth.com or alternatively call 01355 321122.