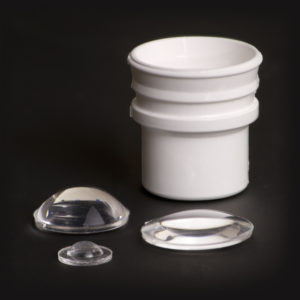 The MS-2002 Mouldable Optical Silicone.
Ellsworth Adhesives Europe is pleased to announce that the latest product development from Dow Corning – the MS-2002 – is now available for purchase.
The MS-2002 is a mouldable white reflector silicone targeting 98% reflectivity. The MS-2002 will assist in further boosting light output from LED devices, improving overall energy efficiency and lengthening device reliability. Thanks to its highly reflective properties, the white reflector silicone material also extends the excellent photo-thermal stability and high-mouldability that typifies Dow Corning's award-winning optical-grade Mouldable Silicone family.
Dow Corning's global industry director of LED Lighting, Hugo da Silva, explains the rationale of their latest development "Our advanced new Dow Corning MS-2002 Silicone extends the valuable design, processing and performance benefits of our Mouldable Silicone portfolio beyond transparent LED lens elements to include the reflective elements of LED lamp and luminaire applications. With the launch of this new product, customers can now maximize the benefits of silicone chemistry to develop more affordable LED lighting."
Like other products in Dow Corning's line of high-performance LED silicones, its advanced new Dow Corning MS-2002 Silicone delivers outstanding mechanical, thermal and optical stability at temperatures exceeding 150°C. That means, unlike epoxies, polycarbonate, acrylic and other conventional LED materials, Dow Corning MS-2002 Mouldable White Reflector Silicone retains superb colour, reflectance and mechanical performance over the lifetime of an LED lamp or luminaire without yellowing or physical degradation. As the market demands LED sources to deliver more intense light from comparatively smaller package sizes, these qualities are highly desirable for reflective LED materials.
With its high reflectivity and bright white colour, this new high-performance silicone product does not require the additional mixture of liquid silicone rubber or colour pigmentation.  Its extreme thermal and optical stability enables development of parts with direct contact with LED dies without air gaps between the die and optics, avoiding design limits common with organic LED materials.
Ellsworth Adhesives has a well established partnership with Dow Corning – the global leader in silicones, silicon-based technology and innovation. The MS-2002 and a whole host of other Dow Corning products are available for purchase now from Ellsworth Adhesives Europe. Shop the Dow Corning range here.